Cuba Travels 12/27/00 to 1/4/01
Arriving in Havana came only after an epic travel experience with storms, cancelled flights, and a 600 mile, all-night drive. Frantic to reach Miami in time for the charter flight (which had taken a month and countless phone calls to procure), I had driven from my sister's home in Monroe, Louisiana, to Talahassee, where I made a flight to Miami with 4 minutes to spare. I left the rent-a-car on the tarmac and made it on the plane just as doors were closing. In the Miami airport, I joined Casey Gardner, my friend and ex-finacee, and soon after we were in the plane heading south to the island nation.
When we arrived in Havana, late in the night, Cuban climbers Anibal, Carlos, and Vitalio met us at the airport and deposited us in a casa particular (in fact, Carlos' Aunt's house). It it was beautiful waking up to a new land, and quite exciting to have a week of no plans with good friends to share. Anibal came by in the morning and took us out for coffee. We asked about a sit-down cafe, and Anibal told us, "you will have coffee as we Cubans do". On a busy street, we found a woman selling coffee in small cups from a pushcart and drank several shots of coffee, standing amidst the chaos of a Havana tenement district. Anibal then took us for a fantastic all-day walking tour of Havana. We walked for miles around the city, saw the remarkable colonial, baroque, and art deco buildings of Havana, strolled the Paseo de Prada and the Malecon, and learned the history of Havana. Anibal told us also of his life and dreams--and we discovered that he is amazing man for only 20 years, with a senstivity for beauty, and a spiritual curiosity that was intriguing. A few years before, he had been to Europe on a climbing trip, thanks to an invitation from a European Alpine Club, and we realized how the freedom to travel was truly a privledge.
Later, we met with his mother Esther, and we understood Anibal's sense of the world better. Esther was a well-known Cuban actress, currently engaged in establishing a theatre and dance troupe in Havana. A sophisticated woman with a fine taste for the arts, Esther had a close bond with Anibal, her only son. Growing up, Anibal had been exposed to rich cultural experiences with his mother. His first climb was with a European friend of Esther, who had taken them both climbing one day. We were invited us to stay at her house, which we gladly accepted. Her home was beautiful and refined, with lovely paintings and inspirational sculpture, and a wonderful central courtyard which she had designed and built. At dinner she told us of her ideas with the theatre troupe. The passion of her ideas shone as she described in detail over dinner a performance with masked actors reveling in the primordial essence of freedom from the bonds of identity. She also told us of several great Cuban films, "Lucia" and "Undeveloped Memories", and I hope to see them someday.
The next day Anibal took us climbing at the Castillo Morro with Jorge, a spirited young Cuban and a proud father of a 2-month old baby. When we arrived at the castle, after taking the "Camel", a converted missile carrier- come-bus, the waves were crashing madly. We looked at the easiest route there, the "Corner" (actually an arete), which was the first rock climb of Castillo Morro, and frequently a wave would crash on the wall and splash most of the route. Suddenly, Anibal said, "Let's go for it!" and we set up the rope. My turn was first, and after lowering down into the crashing surf I was certain that a wave would wash me off the rock at any monent. The wall shuddered with each wave and I imagined it could suddenly collapse. Making it to the top with the adrenaline flowing, and shaky after my first climb in many many months, I began to feel like a climber once more. Anibal went next, then Casey and Jorge.
Next we prowled around the castle looking for routes. The caretaker of the castle likes and appreciates the climbers, and allows them to place anchors in the castle walls. In return, the climbers are quite respectful and camouflage all signs of the gear. We climbed an arete (which threw my shoulder out), and later, Casey and Jorge toproped a corner for which in lieu of any rock anchor, we set up a two-person anchor system, fun for all. Then we visited the castle and climbed the steps of the great lighthouse, where we were blessed with an incredible view of the ocean and city. We finished off the day with a nice roof problem toprope, then back to the city in an original 1908 Ford. Later that night we had dinner with Anibal and his girlfriend Heidi, who is studying film. Her thesis project is a documentary on the chance-ness of life and her description of her screenplay was beautiful and insightful and made me realize that the intellectual life in Cuba is alive and strong.
The next day we hired a car to Vinales, the main climbing area. We gave Carlos a lift to San Cristobal, where he was visiting family for the New Years. The next day in Vinales, New Year's eve, was quite mellow. We met with Isaias, a local climber, and walked to the beautiful Mohotes, the limestone domes which pervade the region and offer the excellent climbing opportunities. We bouldered on the sharp rock beneath the beautiful Mohotes.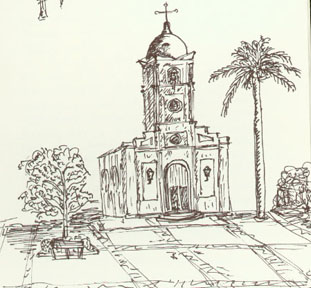 New Year's eve we took a trip to the beach--magic--we took a taxi to the gate of Cayo Julius, and began a 4 mile walk to the beach. Soon, a busload of young French students pulled alongside, asking us if we needed a ride. We couldn't believe it, it felt so out of place. It turned out to be a group of volunteers organized by Colette Lavergne, who took students on a 2 week adventure to Cuba where they work in the country with the Cubans, and experience the communities. We had a fine time on the beach, I made balance sculptures with the seashells, and Casey read and walked. It was chilly so neither of us ventured into the water. That night we returned to Vinales and had a wonderful dinner at our Casa Particular managed by Graciella. Truly we felt like we were in paradise. The next day Isaias took us climbing and we climbed several routes on the Mohotes. That evening Anibal, Vitalio and Nanny arrived, and we met up with Armando and Laura, Jim Donini and Angela, and we had a fine night of dancing and drinking seven year old rum in the local pub with live Cuban music. We attempted the Cuban Dance steps and had a wonderful circle where we all danced in a circle and one of us would do a little stint in the center when it came our turn.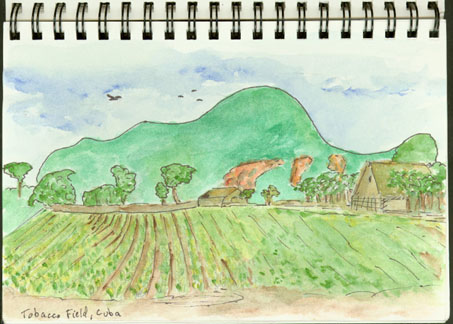 The next day we all went out to a larger cliff, and Jim dragged me up a difficult overhanging route, which I fell off several times. The most enjoyable part of the day was reading the Spanish version of Dr. Seuss's Huevos Verde con Hamon with Anibal--a real treat! We had to leave the fun scene mid-day, as our ride to Havana was leaving at 3. We had a nice trip to Havana, and the next day we visited the Museum of the Revolution, several art galleries, and wandered the Plaza de Armes, perusing the wonderful used book stands. In the evening we flew home.
A wonderful trip with wonderful people. I hope to return soon!!