Issac

A story by John Middendorf

Eons of time and the elements of nature have worked hand in hand in what is now known as Zion National Park to create some of the most awesome series of canyons and formations in the world. In one of the great Zion canyons lie the Court of the Patriarchs, three massive sandstone towers named after the original three biblical fathers: Abraham, Issac, and Jacob. For a climber, these outrageous walls are alluring. Issac, the proud middle Patriarch, has a 1800 foot sheer southeast face with several excellent crack systems splitting it. Jeff Lowe, Mike Weis, John Weiland, and Wick Beavers climbed one of the crack systems first in 1972. Since then, the southeast face of Issac has seen only a few repeats. The antiquated Lowe route description read nebulously, and as is typical of Zion routes, figuring out where others have gone before requires a sleuth-like approach. I'd always eyeballed a soaring 800 foot straight-in crack on the upper buttress, and wondered whether or not the Lowe route ascended that, or a long corner system to the left. Climbed or not, that stunning crack beckoned.

Establishing climbing partners in Zion often requires advanced tactics in cajoling. Zion's reputation of poisionous fauna, long bushwhack approaches, and searing heat overwhelms the fact that many of the country's most awesome big walls reside there. Sometimes you have to bribe prospective partners with tales of an excellent bar scene and fine local cusine (at the local watering hole, The Bit and Spur in Springdale). Myself, I'll say whatever it takes.

I hooked up with Calvin Herbert, a young lad who came to Zion for a short climbing holiday, and we climbed some of the one- to two-pitch routes at the base of Zion's magnificent walls. Some of the better "Base Routes" are on Issac. At the base of Issac, I searched for a line to the series of ledges midway on the climb. Above the midway ledges, on the upper southeast buttress, was the home of the coveted 800 foot hand slightly overhanging perfect hand crack. We found a good crack system which began as a offwidth and continued into a 1000 foot long chimney system to the midway ledges. I led the first pitches of 5.10 offwidth and squeeze, and saw that the chimney above looked climbable. It was late, so we rappeled off, but I left the ropes in place for an eventual push to the top. Calvin, who was supposed to be back in Boulder the next day, immediately stated that, if need be, he would quit his job to join me for the ascent. Such is Zion climbing: at first, the walls seem too intimidating to climb, but once the initial pitches are tasted, desire overwhelms rational reason and the "real world" becomes unimportant. Later that night, while drinking potations and enjoying a fine Dutch-oven dinner at our friend Brad's house in Springdale, we invited Brad to join us for a team of three.

No sooner did we get started that the spring rains started to fall. Zion weather is extremely temporal, and the climbable conditions there are rare. Winter is too cold to climb, while summer is too hot. In the spring, it rains often. Zion routes require persistence, and after a series of false starts and a few days of organization, we had climbed to the midway ledges 1000 feet up, and bivouaced there. The next morning, we were caught in a huge rainstorm. We had to go down-- when Zion's Navajo sandstone gets wet, it takes on the consistency of slush. A week had passed, and the realities of Calvin's employment had gained in relative importance, and he left Zion.

We invited Bill Hatcher along, world famous photographer, to take his place. After a few calls to Bill, plus a trip to Flagstaff to prime him on the route, Brad, Bill, and I proceded to bushwack through manzanita for the umpteenth time to the base of Issac for another attempt. We carried food and bovouac gear for three days, and, courtesy Bill, a good bottle of whiskey.

The first day we made it to the midway ledges, our previous high point, where we spent the night, tired from a long day of toiling up 100 vertical feet. We drank the whiskey, told lies, and passed out..

The wall gets first light, and was beautiful as the warm early morning glow turned it into a visual inferno. We got an early start and continued up the upper headwall. After a couple difficult free climbing pitches, the crack pinched off and required 60 feet of nailing. We were dissapointed: up to that point, the entire wall was free. Then the crack opened up and the straight-in overhanging handcracks I'd dreamed of became a reality. Most excellent, exposure and unclimbed perfect cracks.

Many pitches later, we made it to the top shortly before dusk, and searched for a scarce flat spot on the summit, which amazingly still had snow on it despite the warm daytime temperatures. After 3rd classing to the summit the next morning, we began our descent, which, like all Zion descents, proved to have its own brand of desperation and toil. We eventurally exited at an outrageous hanging waterfall which we rappelled down to once again meet the estranged but blessed terra firma.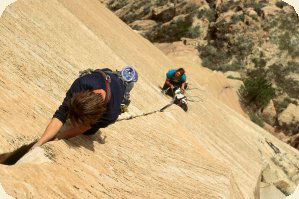 Summary: Issac, V, 5.10+, A2. Start on the center crack on the outermost lower buttress of Issac. Upper route follows the obvious splitter on the upper buttress. Two days for the first ascent; one full day for the descent. 19 pitches for1800 feet of climbing. All free except for 60 feet with many pitches of 5.10 (note: "Zion 5.10" is a relative grading) offwidth and handcracks.
Equipment: Standard Zion freeclimbing rack (2-3 sets of cams, hexes, and stoppers), plus 10 pitons including 2 knifeblades, 3 birdbeaks, three horizontals, one each 1/2 inch and 5/8 inch angles.

RETURN TO Zion Info